Semester in Cape Town: Part 5
I officially started classes at University of Cape Town last Monday. It's nice to get back in a routine, but I did enjoy the time I had to explore the city.
Registration for classes was all done manually, on paper, and in person, which is different from the online registration at the University of Vermont. Two of the classes I was registered for didn't exist. I was told that could happen, but I really wasn't expecting it . The scheduling is also different here. Some classes are everyday and others just a few days, but there are no set blocked schedules like at UVM, where every Monday class is also on Wednesday and Friday, and Tuesday classes on Thursday. Here it seems to be pretty random. Most classes have tutorials, which are like a work period or lab that are scheduled separately.
There are few higher level math classes that are offered this semester as most of them are full year courses. I am taking Numerical Methods, which will be challenging but fun on three days a week at 8 AM, and a tutorial for 3 hours Friday afternoons, which is unfortunate. I am taking a Xhosa class, a South African language, which is daily. I won't get any direct credits for it but I think it will be interesting to learn it. I am also taking a statistics for business class which will count toward my minor. It's Monday through Thursday with an optional tutorial on Friday.
My professors seem great so far. The lectures halls are large and full which is a new experience, so I will not get to know the professors. I did get to chat with my statistics professor. He is awkward but a really nice guy. He was born in California but is South African. The campus is very international and diverse. I have met people from Norway, Holland, Portugal, and all over Africa who come to UCT for their outstanding academics. It is a very attractive campus and it is fun to people-watch.
There are steps in the middle of campus called the Jammie Stairs, packed with students hanging out in between classes chatting with friends, doing homework, eating lunch, or just enjoying the view of the city below. Students are really friendly here, and it is easy to strike up a conversation with anyone around you. I have noticed that the white South Africans are a little less friendly than most of the other cultures and races. I have met some nice white South Africans, so there are definitely exceptions. It was a long week. I'm sure the semester will fly by, but I hope it doesn't.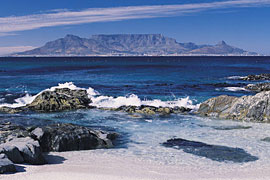 We ended the week with an amazing hike up Table Mountain. It was strenuous and hot, but the view from the top was incredible. it is one of the new Seven Wonders of the World.
I think school will be difficult, but I plan on doing well, I am also here to explore and experience the country and l will have to find a balance..
Sobonana! (See you!)